Welcome to 2014! Now that your headache has subsided and you're back to work, let's talk about one of my latest great loves: the bar cart. The portable party. Have you noticed it's everywhere lately? And why not? What a great little accent piece! Perhaps it became popular again in recent years due to shows like Mad Men. Could you imagine having a stocked bar in your office?
And I feel like the classic cocktail culture is coming back like CRAZY, lately…Oh, and bachelors especially take note of this design trend…
Anyway, I got my very own bar cart for Christmas – the one from Target!  And I looooovvvvee it.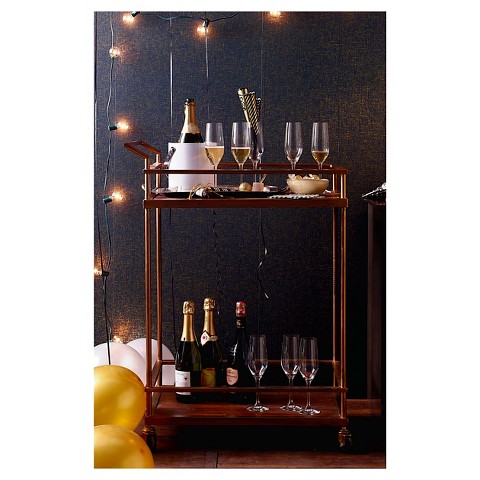 I wish this was my picture, but this is via Target.com
Bar carts are just so very chic. Especially stocked with gorgeous colored bottles and long, sexy-stemmed glassware. I don't even like gin, but you can bet my cart will have a big bottle of Bombay Sapphire Gin because of that incredible blue bottle. And finally, a proper setting for my St. Germain, currently stashed in the pantry behind some Ruffles.
Oh, but that's not all. People have dedicated areas to their beloved bar carts, some decking them out like a prized poodle with pom poms and lighting and such. I also love to see how people decorate an otherwise plain canvas of wall space behind them. Amazeballs, People. Really. You inspire me.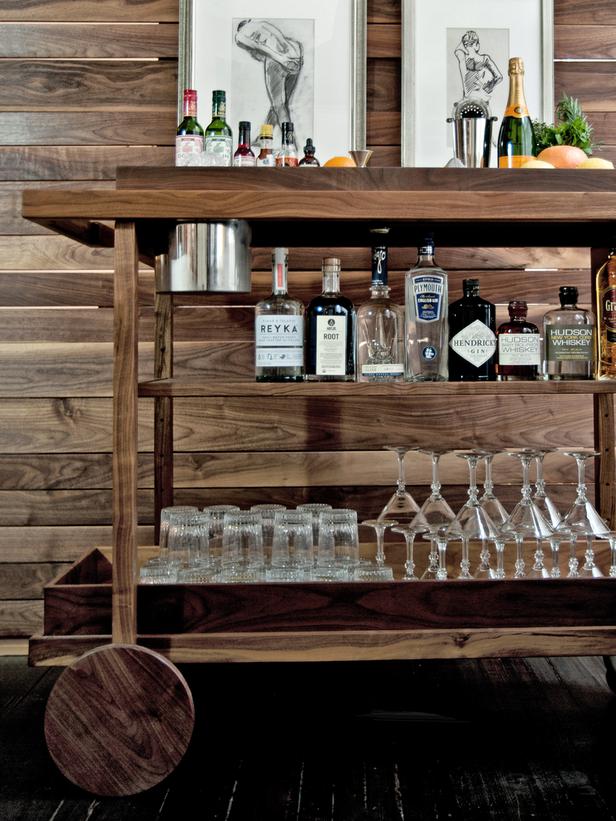 Image credit: Courtesy of the New Traditionalist via HGTV.com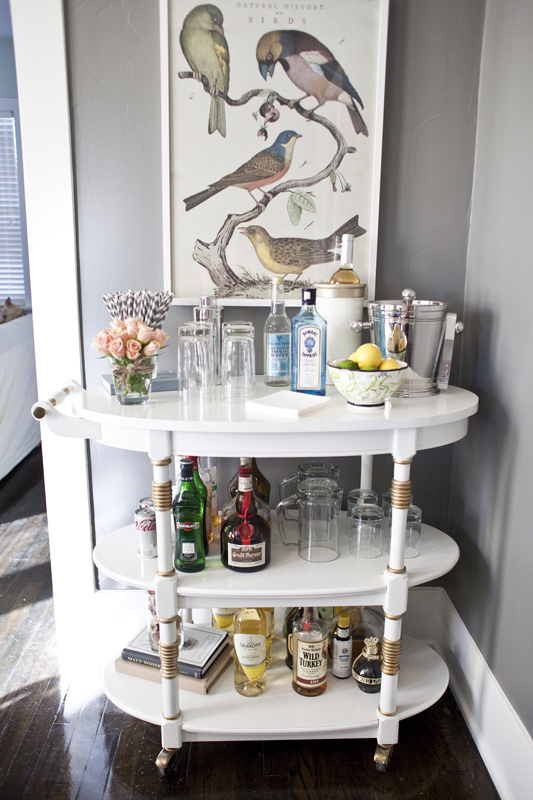 Holy DIY project!  Check this one out!  Image via DailyHaley
Rustic/refined, traditional/modern, metal/wood, delicate/massive – there are options for every home and every decor.  And teetotalers! Deck yours out with tea, artisan waters and juices…maybe some potted succulents – voilà!
Not sure how to stock a bar cart?  Here are some ideas!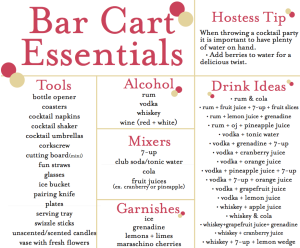 For more great bar cart inspiration, see my Pinterest board.  I add to it often, so be sure to follow me!