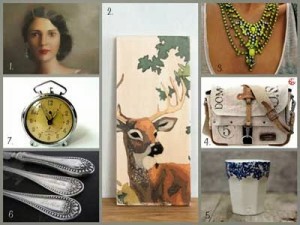 1. Kathleen would never be described as beautiful, but there was something extraordinary about her | Janet Hill Studio
2. Paint by Number Art Block 'Buck' | StudioLiscious
3. Vintage 1950s One Of A Kind Hand Painted 3 Strand Bold Neon Yellow Rhinestone Necklace | LoveObsessed
4. Canvas Designer Messenger // Handmade & Upcycled by peace4you, GERMANY // Model paul-2088 | peace4youBAGS
5. Café chez Maman / Mom's coffee | ArtetManufacture
6. Antique Youth Flatware Set, Engraved Pattie, Silverplate 1835 R Wallace | TheLazyPeacock
7. French vintage JAZ Alarm clock | CabArtVintage
Ahh…just in time for Easter baking, look what I found in People Magazine (which I never read, because I am so above silly Hollywood gossip. Unless I'm on a roadtrip…or apparently other times…as well).
It's a modern take on the vintage classic – Shortbread Cookie meet your younger, slightly more sophisticated cousin, the Lemon Rosemary Shortbread Cookie…
Looks easy enough, no?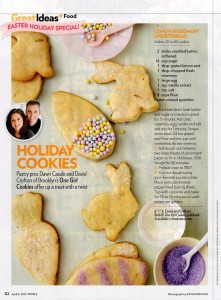 Look at you. You're ready for Christmas early this year.
Christmas tree up and decorated – CHECK!
Christmas cards out – CHECK!
Shopping done – CHECK!
For the rest of us doing finger math, trying to figure out how it's not still October, I bring a little gift. A playlist – my Christmas playlist. I thought of titling it with the year, but this is the playlist I listen to every year. Buy the songs and play them loud. There is no better way to navigate a mall parking lot on Christmas Eve than while blasting Mele Kalikimaka. Trust me, I should know.
It's quite a mix. Most you'd expect, some you might not, and some that might just make you cock your head at the stereo (for your sake, I did take out "Last Christmas" by Wham!). Regardless, it comes with love. So without further ado…(click on the image below)