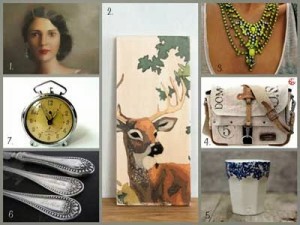 1. Kathleen would never be described as beautiful, but there was something extraordinary about her | Janet Hill Studio
2. Paint by Number Art Block 'Buck' | StudioLiscious
3. Vintage 1950s One Of A Kind Hand Painted 3 Strand Bold Neon Yellow Rhinestone Necklace | LoveObsessed
4. Canvas Designer Messenger // Handmade & Upcycled by peace4you, GERMANY // Model paul-2088 | peace4youBAGS
5. Café chez Maman / Mom's coffee | ArtetManufacture
6. Antique Youth Flatware Set, Engraved Pattie, Silverplate 1835 R Wallace | TheLazyPeacock
7. French vintage JAZ Alarm clock | CabArtVintage
Okie doke, folks. This weekend, it's on like Donkey Kong. It's the TVUSD Antique Fair on Sunday. And I'm putting out there into the universe what I would like to find.
1. Vintage Wire Laundry Baskets. You know the one. The one on wheels. The AWESOME one.
2. Vintage Loving Cups. I have NEVER seen these at a sale in person, but I love them. Especially if they are trophies for 3rd place in a beauty contest or for catching the biggest trout.
3. Mixed Vintage China. I'm a sucker for it. Always.
4. Mexican Enamelware. Being close to the border always makes it a possibility to find in Tucson.
5. Pie Tins and Tin Cake Pans. I like them well-worn and purty.
6. Big Old Marquee Letters. Nothing says "cool" like spelling "cool" out on your wall in old marquee letters. And if you can get them to light up, even better…
7. Wooden Crates. Soda, beer, water…there's a MILLION things you can do with those things.
8. Globes. If they're priced right and spin smoothly, I'll never pass them up.
9. Vintage Grain Sacks and Feed Sacks. I love the rustic stripes of the grain sacks and the whimsical or floral patterns of the feed or flour sacks. Popular for reupholstery and crafting projects. These can be pricey, though.
10. Old Ladders. Depending on the condition, they can be used indoors to display blankets in a bedroom or blankets in a bathroom. They make a gorgeous focal piece.
What are your favorite things to hunt for?