I received a special gift today. From my mother. It's a card from "The White House" directed to my grandmother, Kate McCraw, of Boligee, Alabama. It's a thank-you card, from the Kennedy Administration on behalf of "The President and Mrs. Kennedy" for my grandmother's "thoughtfulness and expression of sympathy at this time." The postmark on the envelope is August 19, 1963. Ten days after the sad loss of the Kennedys' two-day-old baby son, Patrick Bouvier Kennedy, due to respiratory distress syndrome.
From one mother to another – my grandmother had sent Jackie Kennedy a sympathy note…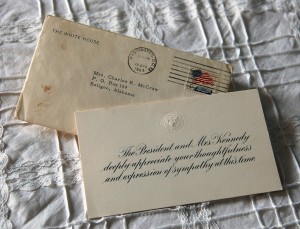 It was a special time to receive this gift from my mother. I didn't even know it existed. Sadly, my paternal grandmother passed away yesterday. Maybe that's why my mother may have been looking back through her own mother's keepsakes, remembering a woman who was both strong and sensitive. I imagine what the Kennedy loss would have meant for my grandmother, a mother of four herself. As a mother of two of my own, I could never imagine how truly horrible it would be to lose a child.
Unfortunately, this was not Jackie Kennedy's only tragedy this year. A mere three months after this card was sent, John F. Kennedy was assassinated in Dallas.
In any case, while I find myself remembering my grandmother, a woman I was so very close to growing up, I am also so touched by this gift from my mother that I had to share it. It really is beautiful.