I am currently obsessed with antique and vintage framed panoramic group portraits! I want to create a gallery wall full of them…
I love the fun geometry of the long rectangle of the frame coupled with the contrast of the vertical lines of the subjects' staged black-and-white or sepia-toned poses. They make such an interesting statement on a wall.
Mix military, scholastic, professional, or club portraits. Thematically, they may be different, but the compositions are all similar.
I also love the size range of these photographs. Typically, they are about 6-9 inches high by anywhere from 20-40 inches long. Price-wise, be prepared to spend anywhere from $100-$125 each for a vintage panoramic group portrait. Many of them date from the 1910's – 1930's, so you may want to re-frame or mat them.
They will also make great conversation pieces for your next gathering as your guests gaze over the hundreds of faces represented in the portraits. Instant charm, guaranteed!
So my collection begins…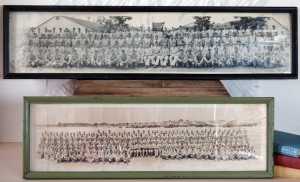 Link Love: Inspiration Exchange + Homework Wednesday + Dagmar's Home Vintage and Thrifty Finds + Domestic Superhero