So while I was out yesterday, Mr. Bold Sparrow took it upon himself to go Target-crazy and spruce up the place. Needless to say, I was delighted with the end result!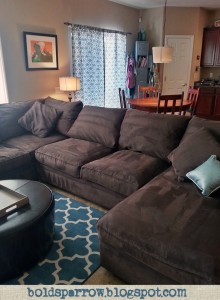 New slate blue curtains replaced our formerly aged burgundy curtains and a coordinating rug replaced a boring beige one (let it be known that this all started after the family Boxer ate the plastic Easter grass out of the girls' Easter baskets and went on a puke fest around the house…don't worry, he's fine now). He also replaced the lighting over the dining room table with a simple inverted lamp shade (who IS this guy?).
But my favorite design element here? He incorporated some of my favorite vintage finds, a 1960's lamp and my gym locker tower!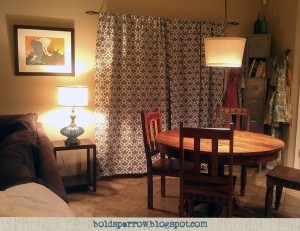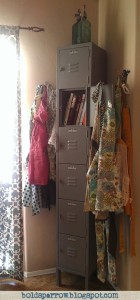 He topped the locker tower with my vintage seltzer bottles, and gave a new home to my apron collection and some cookbooks!
I love the combination of new and old here so much more than I even thought I would. And I am LOVING the punch of blue. Best.surprise.ever!