Ah, good evening. In true Bold Sparrow form (2013 resolutions be damned), I bring you a delightfully belated post…
Southern tradition dictates that if one wants to experience good fortune and have a prosperous year, one must eat a hearty helping of black-eyed peas on New Year's Day. These peas are never better than in a dish known as Hoppin' John. I am a true believer when it comes to this tradition, not because of my Southern roots, but because of my love of tasty dishes. And this, my friends, is a very tasty tradition.
There are many ideas about where this recipe's name originated from, though it is undecided whether the "hoppin'" came from those excited to eat the dish or a nickname for the dish's original vendor, (who may or may not have been physically handicapped). Most food historians will agree, however, that this American dish has African/French/Carribean roots. In its essence, it is a spicy dish of black eyed peas (representing coins) simmered with pork and rice, typically served with collard greens (money) and cornbread (gold): "eat poor that day, eat rich the rest of the year."
The first published Hoppin' John recipe comes from Sarah Rutledge's The Carolina Housewife in 1847: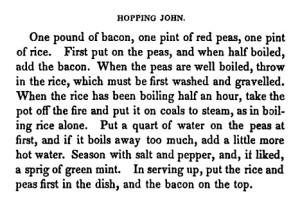 Mmm mmm, good. Mint garnish? Interesting…and while there is no shortage of variations of the original, my favorite Hoppin' John recipe is from Cooking Light Magazine, and calls for smoked ham hocks, fragrant jasmine or basmati rice, and crushed red pepper for heat. Purists may say there's not enough pork, but I truly love the taste and simplicity of the recipe. As for next year, though, I will be trying Elise's recipe (pictured above) from Simply Recipes. Her recipe seems to be closer to the original, and – let's be honest – you can never go wrong with a recipe that calls for bacon…
By the way, when you eat the leftovers on the 2nd of January, then it's called "Skippin' Jenny." You Southerners with your sayin's…go figure. In any case, best of luck and prosperity to all y'all for a great 2013!
**IMPORTANT UPDATE!!!** For the record, I never win anything. Anything. But just TODAY, I received word that I won two movie tickets to a local art theater. Coincidence?? I think not. The peas work, people. I will be spending the rest of the day entering The Publishers Clearing House Sweepstakes and buying lottery tickets. Good day.